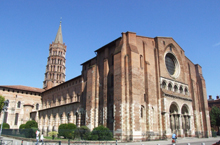 The Church of Saint Sernin
Carcassonne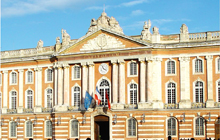 La Place du Capitole, Toulouse
Toulouse, the most important city in the region, is capital of the Haute Garonne département. Set beside the Garonne river, it is a glorious mix of Gothic, mediaeval and elegant 18th-century architecture.
Although Toulouse is a large city – the fourth largest in France – the historical centre is very accessible. The Place du Capitole is the cultural centre of the town, a place to sit and watch the bustling life of a busy city. The Place also contains the Opera House that has some excellent productions during the season.
The Basilica of Saint Sernin is magnificent, a vast barn of Romanesque architecture with a landmark tower and a fine pipe organ. Concerts are regularly held in the church. The Gothic cathedral of Saint Etienne is also a remarkable building with an extraordinary west front. Between the two churches lies the Old Town, a warren of small streets with buildings dating from the 15th and 16th centuries.
Just beyond Toulouse is Carcassonne whose fortified "Cité" dates from the fifth century. Its mediaeval fortifications and narrow winding streets attract flocks of tourists in high season but the town is well worth a visit. It is good to arrive as early as possible before the tour buses disgorge their passengers.
A long full day out might take you from Ogeu first to Carcassonne, then back to Toulouse, stopping perhaps at a Corbières or Cabardès vineyard along the way.